A good running route from Sandbjerg
The Nydam Path is a lovely 7 km long hiking trail, which also passes Nydam Bog. It extends approx. 2.5 km along Als Sound. The route is not suitable for prams or wheelchairs. The route offers a wealth of historical memories and nature experiences. The route starts at the gable of the Manor House, southeast of the park by the embankment. The route follows Als Sound north with a beautiful view to Als. See the route here.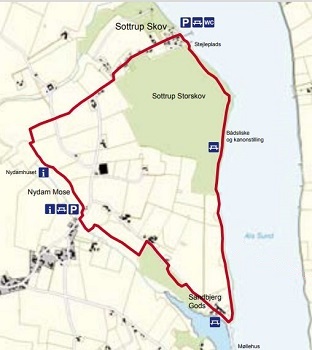 The Nydam Boat
From 1859-63, archaeologist Conrad Engelhardt excavated two Iron Age boats and parts of a third in Nydam Bog. The boats from Nydam are, 130 years after their discovery, still among the most important sources to understand the Nordic shipbuilding tradition. The Nydam Boat, which is a special long boat measuring 23 metres, is one of the most important Iron Age finds in Denmark and is only 2.5 km from Sandbjerg Estate. Read more here.
On a walk in the woods
Lars Dall, our operations inspector, offers guided picnics in Sottrup Wood of varying duration. There is a walk of 7.5 km (the Nydam walk) a slightly shorter route (the Wood Walk).
E-mail: ld@sandbjerg.dk